ATLAS Indigenous Primary Care Surveillance Network has met to begin the co-design of a new CQI program with Aboriginal Community Controlled Health Services and communities.
ATLAS is an Indigenous-specific surveillance network, currently working with 34 Aboriginal Community Controlled Health Services (ACCHS) and communities. The program collects deidentified clinical data relating to sexually transmissible infections and blood-borne viruses from these sites. In September 2022, the ATLAS operations team ran a two-day face-to-face workshop in Brisbane. We spoke to the ATLAS Program Manager, Dr Clare Bradley, to find out all about it.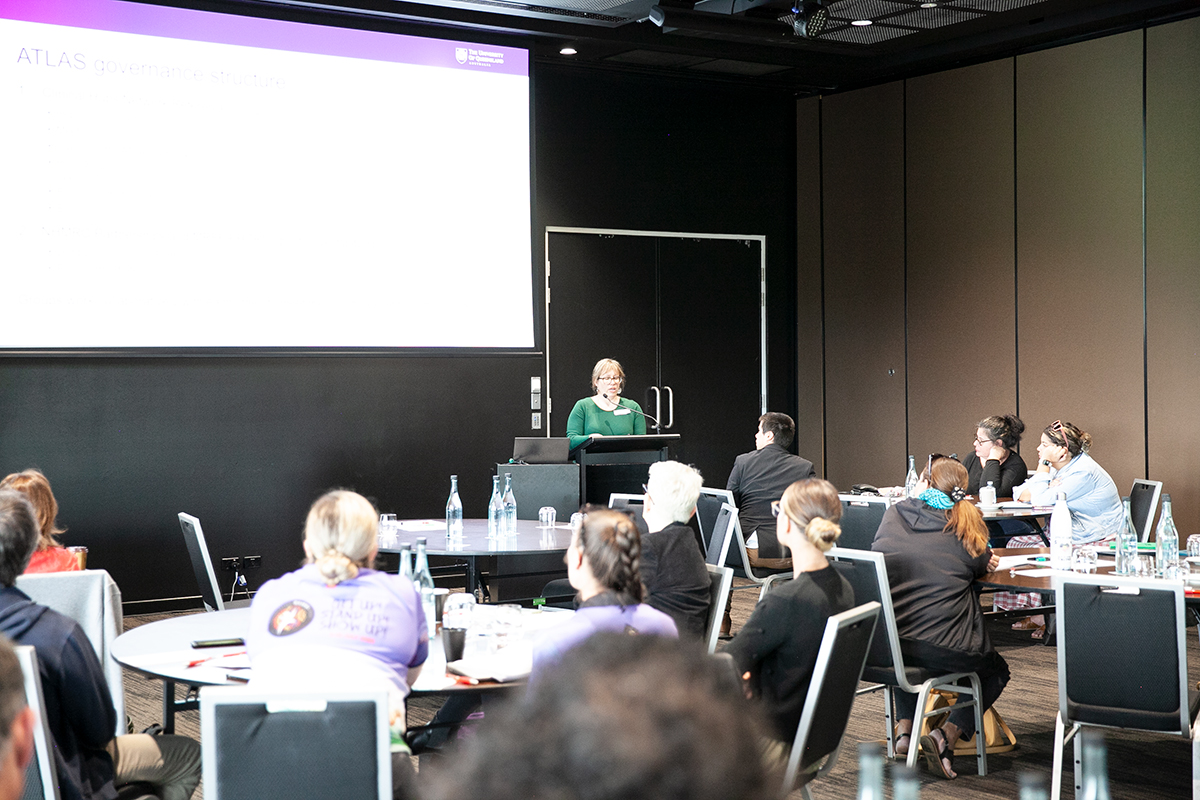 What was the purpose of the ATLAS workshop?
Indigenous governance/oversight of how the ATLAS network operates is a leading priority for us, as is stakeholder engagement with us (the operations team), with the data and with the analyses that come out of the surveillance collection. We've recently launched a secure data dashboard through which authorised ACCHS staff can access their organisation's data, and this dashboard will in turn support an enhanced Continuous Quality Improvement program we're developing. Having reached the 'end' of COVID – the travel restrictions part of it anyway – it was an ideal time to get all the ATLAS sites together, to give everyone an opportunity to know more about the surveillance network and have their say, to meet each other, to start to co-design the new CQI program and improvements to the dashboard.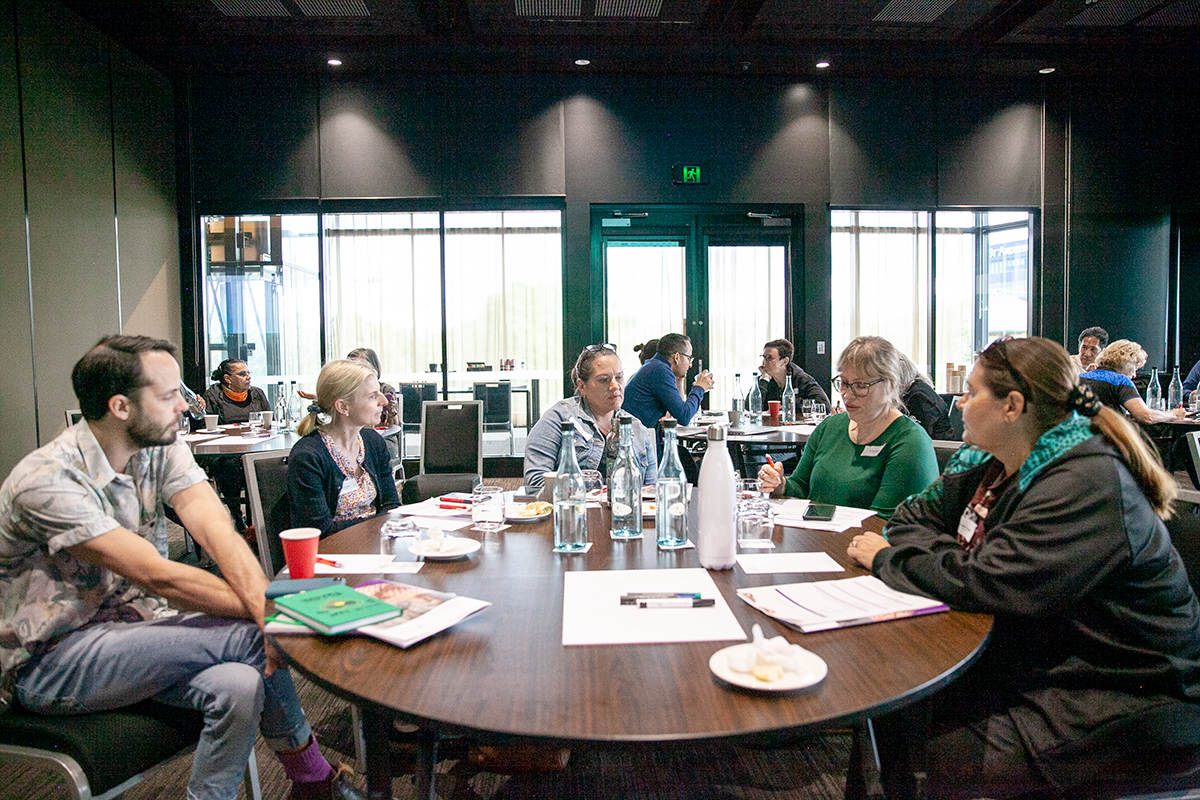 How many people attended the workshop?
Thirty-four people attended in all, including 24 staff from various ATLAS sites. There were 12 different ACCHS represented, plus representatives from some of ATLAS's 'clinical hubs' – regional peak organisations that have key involvement in the governance of the network. It was great to have voices from sites in every one of the five ATLAS clinical hubs – Far North Queensland, Brisbane, New South Wales, South Australia and the Kimberley, WA – participate in the face to face, as well as the independent sites that aren't aligned with any hub. If we had to sample the network, we couldn't have asked for a more representative spread.
"We have a lot of transient people that go through our community so my biggest concern is for the health of the community. I'm keen to look at the dashboard to track how we are testing and treating STIs as part of our continuous quality improvement." - Arlene, Umoona Tjutagku Health Service Aboriginal Co. Coober Pedy, WA

What were some highlights during the event?
For me personally, as a non-Indigenous researcher who's been with this project for a long time, the highlight was the apparent enthusiasm and support for the ATLAS network present in the room. If ATLAS stakeholders are happy and can see value in what we're trying to do – enough to go to the effort of travelling to a meeting and being really engaged in the conversation – then we must be doing something right!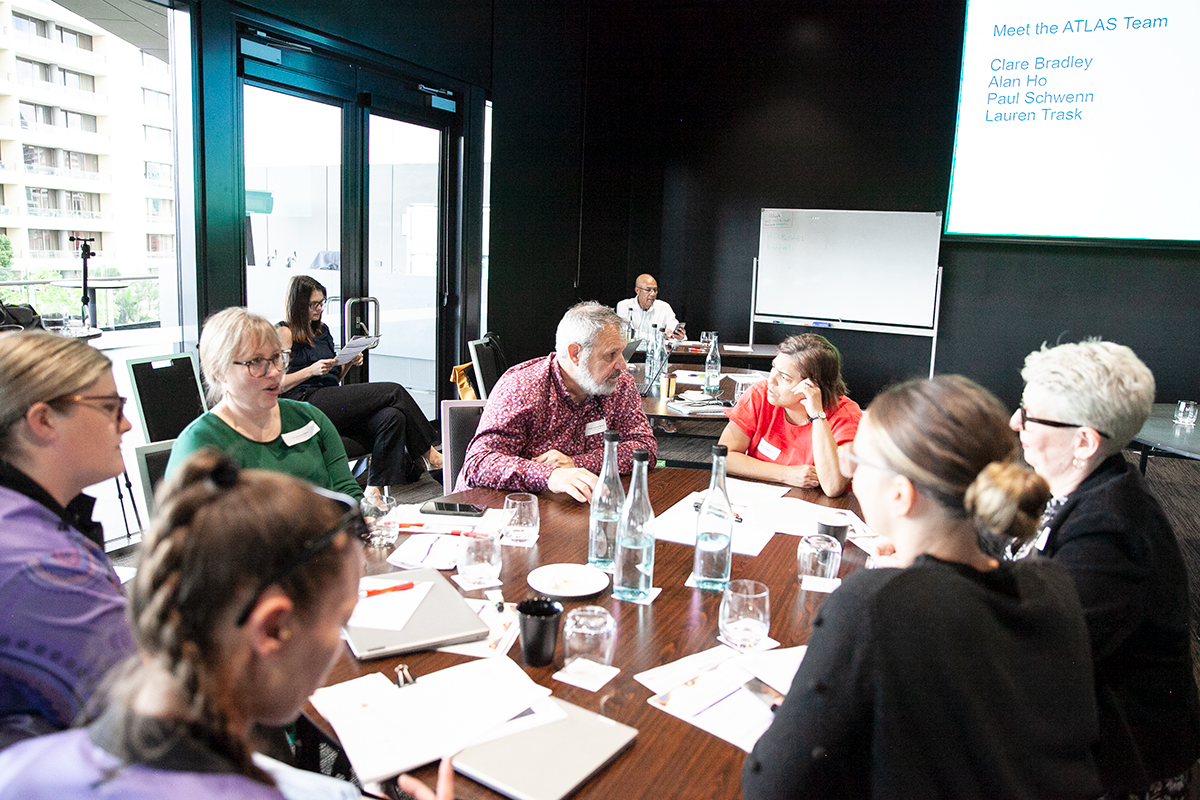 Another highlight was the networking aspect of the meeting. We've got a large group here, with some sites only loosely connected with others in the network, and it's not ideal to operate as a whole bunch of isolated site-plus-operations team pairs. There's much more to be gained by supporting conversation and collaboration between the sites themselves and so I was really happy to be able to support this to get started. Of course, getting enough feedback and suggestions to keep the whole operations team busy for the next year was a highlight! It's so invigorating to know what to work on that will directly benefit the communities we seek to support.
"Being able to go back now and implement the dashboard in our service will make it so much easier to be able see where needs to be worked on, trends that are coming, reporting even. This is going to be a really good step for us." - Rachel, Oral Health Therapist and Sexual Health Worker, Armajun Aboriginal Health Service, Inverell, NSW

What would you do differently next time?
Timing was probably the only thing I'd change next time – this year's face to face was held slightly too close to the joint Australasian HIV&AIDS and Sexual Health conferences on the Sunshine Coast, but not so close that people who wanted to, could travel to both without a hassle. I think we lost a good number of potential attendees because of that unfortunately.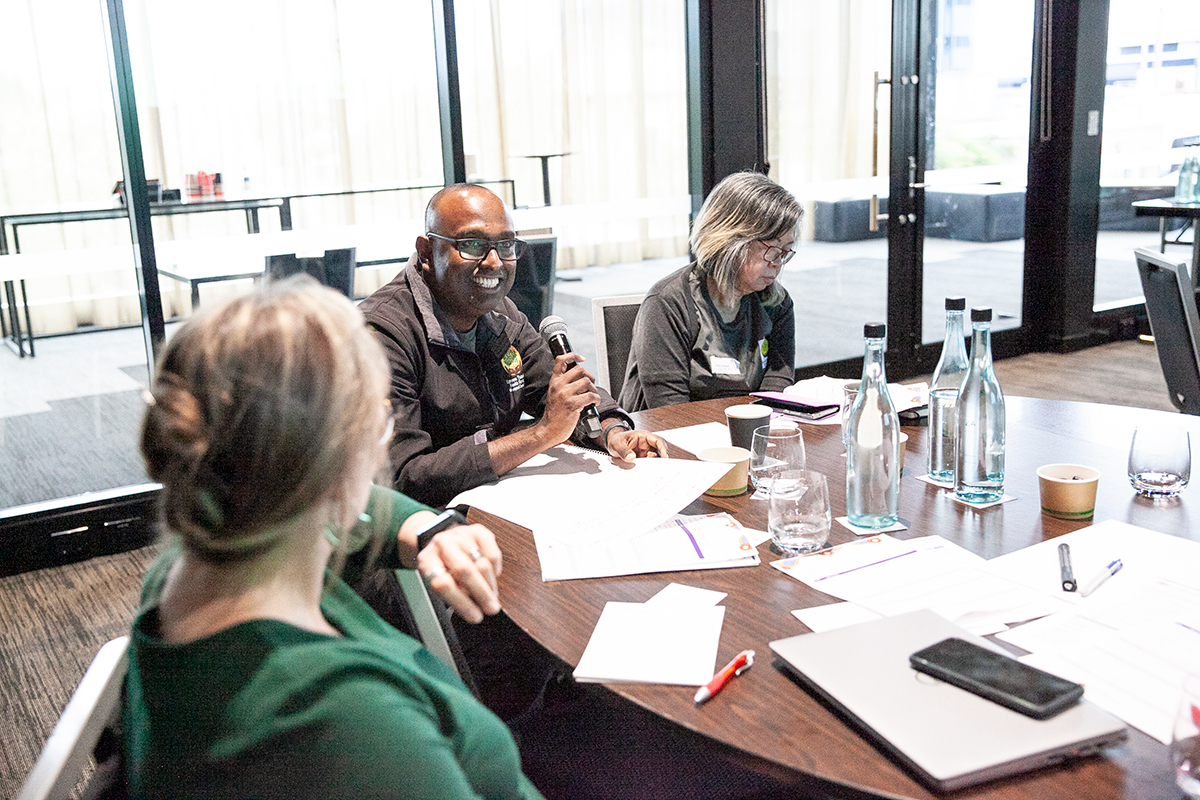 Otherwise, I'm really looking forward to being able to focus much more on the stories and experiences of the sites themselves at next year's meeting. With a few CQI cycles under our belts by then, and other collaborations developed over the coming year, we'll be able to hear what the sites have tried, what works, what doesn't, where they want to go next, and what they need from us to get there. ATLAS is the sites' network and it needs to work for them. We're just here to manage the data responsibly and support the sites to use it to improve clinical care for sexual health and blood-borne viruses and protect their communities.
"Tinkering with the data, it's good to see gaps in our service in terms of retesting and follow-up testing. It takes a bit of tweaking from the data that's put in from pathology. It's definitely got some good uses ... to provide a good picture of where to focus." - Timothy, Sexual Health Nurse, Ord Valley Aboriginal Health Service, Kununurra, WA

What are your top takeaways from the workshop?
For my role as ATLAS Program Manager, the importance of communication, communication, communication was heard loud and clear. There will be a new newsletter and comms strategy launched soon. Otherwise, it was great to see how well the ATLAS team is pulling together and how we are delivering something that's useful for stakeholders, and what we need to do to improve our work to make an even more positive impact for ACCHS and Aboriginal communities across Australia.

Will you be making any changes to your project after this face to face?
In addition to the new-and-improved comms strategy, we'll be implementing feedback received about the ATLAS dashboard and our reports and other outputs and working on some priority data improvements so we can roll out additional analyses that sites have told us will be useful. So, not "changes" as such, but operationalising what we've heard and continuing to have these conversations so that we can deliver an increasingly useful service to our stakeholders.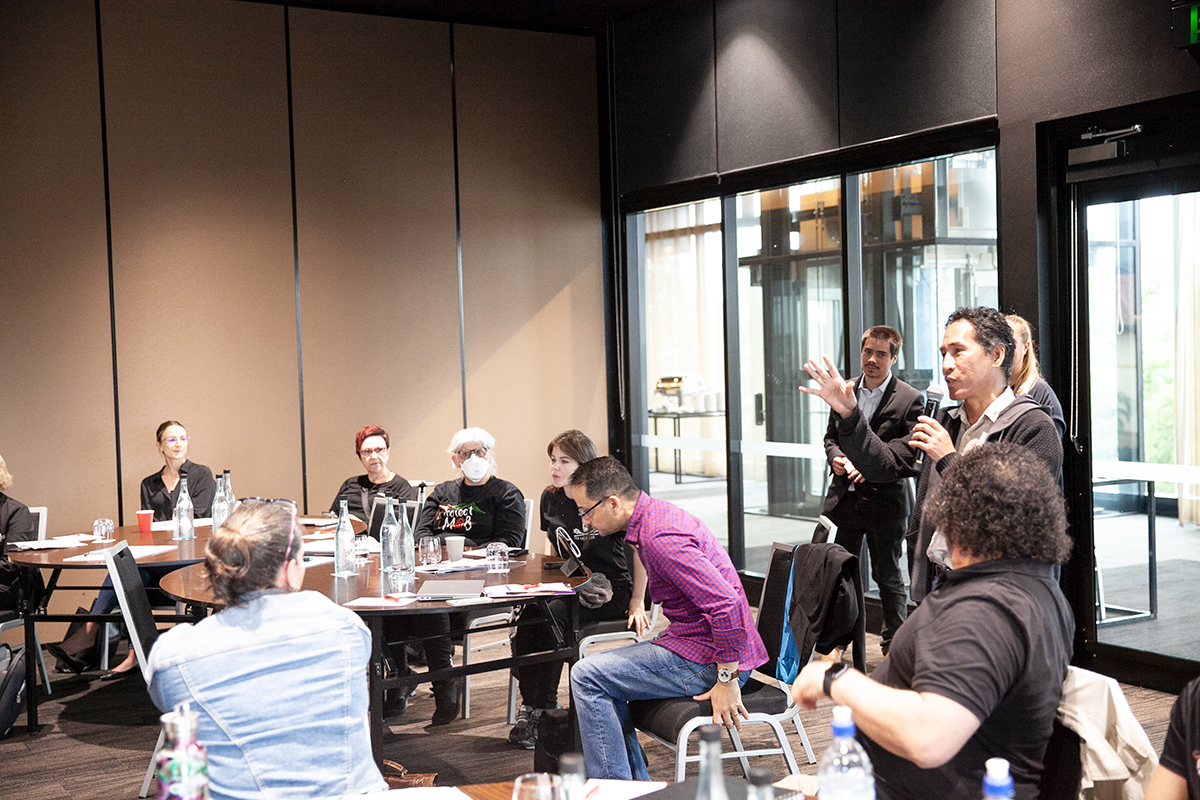 "A highlight of the workshop has been the great opportunity to connect with people from across the board. The challenges we face in Brisbane are common challenges that everyone is facing, so it's good to have those ideas shared." - Roshan, Senior Medical Officer ATSICHS Brisbane, QLD
What kind of feedback did you get from participants?
The feedback about the face to face was overwhelmingly positive. The group seemed to really appreciate the opportunity to meet and discuss the project with each other, as well as with the ATLAS operations team, and see value in doing this more regularly – a big pat on the back given these are incredibly busy people.
"We have lots of dashboards, and we kind of want one that does everything for us. The big point about ATLAS is its adaptability to what we need." - Jo-Anne, CRAICCHS, Cherbourg, QLD

Will you be organising another workshop?
Yes, we'll definitely be organising another workshop in 2023 and ideally making this an annual event. The question is when and where, but it's likely to be much the same as this year's event – early September and in Brisbane. Brisbane's so lovely in spring!

Any parting comments?
Just a shout out to the rest of the ATLAS team for the incredible effort pulling the face to face together – it was unchartered waters, and we had a lot of competing obligations, but it was such a success and I really appreciate the work that went in to making it so. Also, Professor James Ward never really gets the thanks he deserves for his vision and all the groundwork put into establishing ATLAS. The ops team might be doing the daily technical work, but this is James' baby and all credit to him.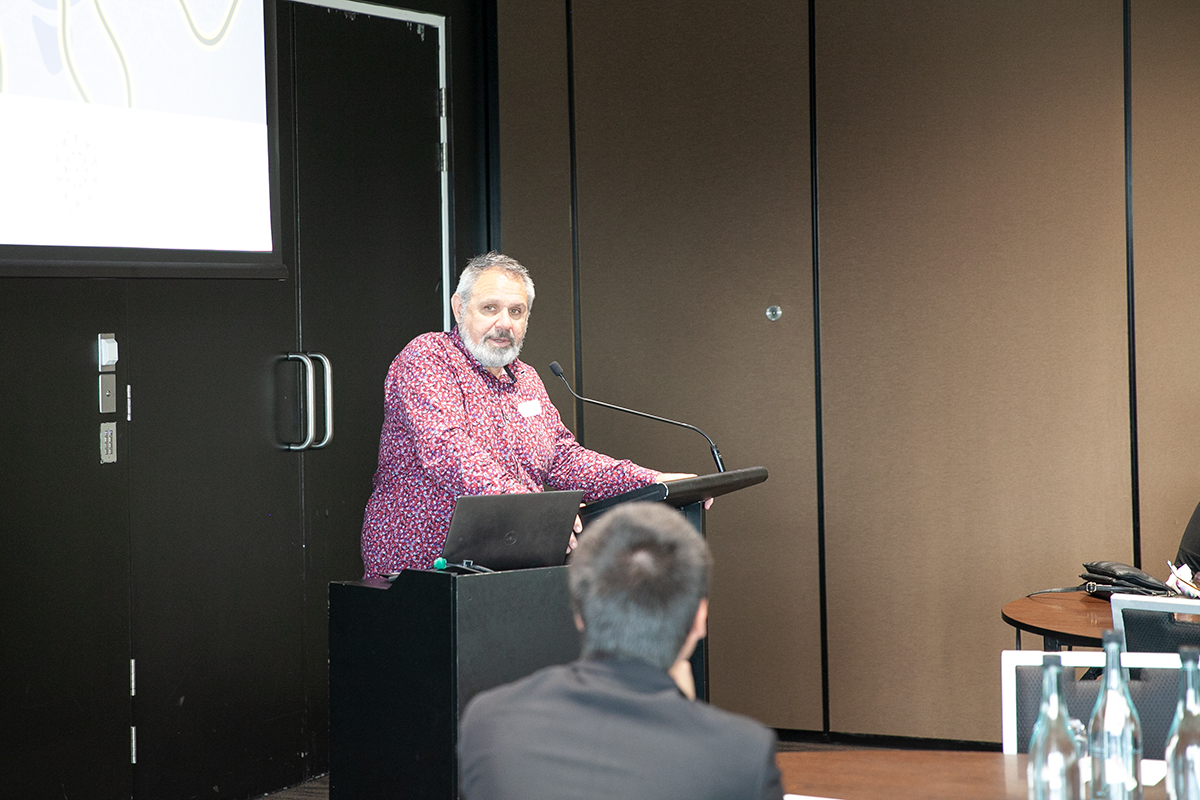 Photos ©UQ Poche Centre for Indigenous Health