We exist to provide national and international leadership in Indigenous health research and research workforce development to improve life expectancy and transform health inequities and injustices in Australia and other international settings.
Our mission is to become a leading Indigenous health research centre in Australia. We will do this by creating impact through engaging in collaborative research that addresses gaps and challenges identified by Indigenous communities, and building the capacity and capability of Indigenous health research communities in Australia.
Our values and principles
We privilege and respect Indigenous knowledges, cultures and worldviews, and prioritise Indigenous self-determination, community-control and methodologies.

We value diversity and promote equity and social justice.

We commit to achieving excellence and impact in academic research, leading to tangible improvements to the health and wellbeing of Indigenous peoples.

We work collaboratively in transparent partnerships with communities, Aboriginal and Torres Strait Islander Community-Controlled health organisations and other stakeholders, and ensure reciprocal learning, skills building and accountability within our research partnerships.

We support Aboriginal and Torres Strait Islander staff, students and communities to build their health research capacities and capabilities, and will nurture the next generation of Indigenous research leaders.

We provide a safe space for Aboriginal and Torres Strait Islander staff, students, partners, and community members to fulfil their research aspirations.

We are accountable to community, Country and each other, and address issues in open and respectful ways by having responsible, courageous conversations.

We recognise that the entire health ecosystem has a role to play in reducing inequity and improving health outcomes for Indigenous peoples.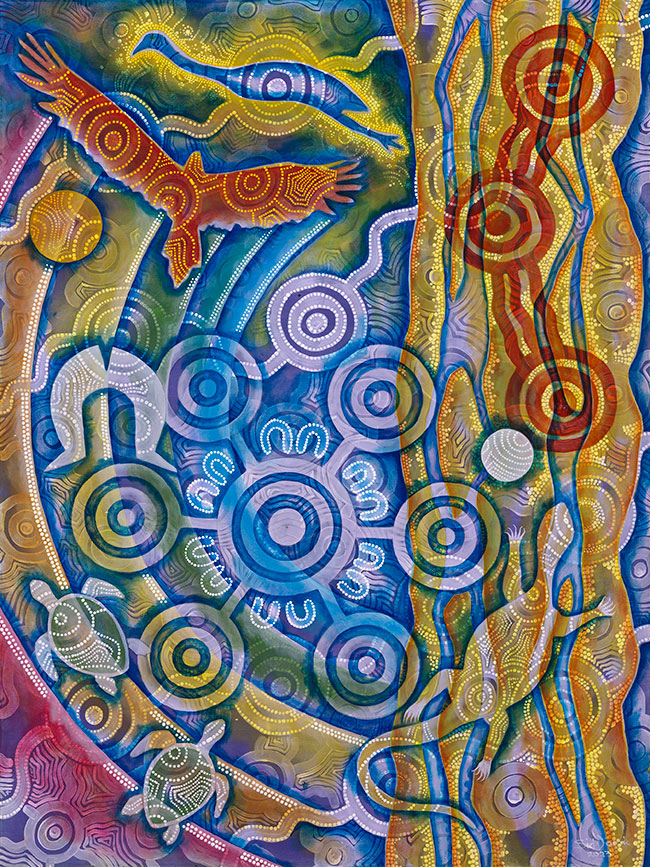 Consolidate (2023) by Sid Domic
Everything that has a spirit, whether it be grass, rocks, water, if it has a spirit, it's living. If it's living it has a spirit, well, you can communicate with it. So that's knowledge that has been pushed to the invisible - doesn't connect with Western ways. But if you can speak to the spirit of the lands, country, animals you can heal anything here in the present, we always can connect with the past and that knowledge for better cycles in the future when it comes to healing.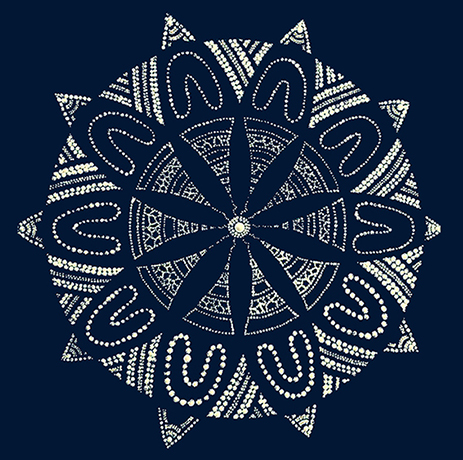 Potential (2015) by Sid Domic
The plant doesn't reach its full potential until it flowers; a symbol of its expression and growth. In the image, the U shapes represent the UQ community (staff, students, Indigenous community, our partners). From the UQ community comes their individual growth, directed towards the centre circle, which represents a focal point of all this knowledge and energy. This creates the flower, which is symbolic of our potential as a community working together.